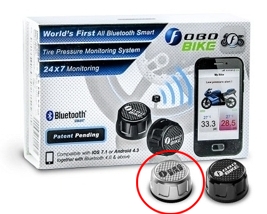 FOBO Bike ist das weltweit erste Bluetooth Reifendruck Kontrollsystem RDKS welches über eine App mit dem Smartphone kommuniziert.
Auch die Installation ist sehr einfach. Man wählt ein Motorrad in der App, kann ein Foto hinterlegen, stellt den vorgegebenen Luftdruck ein und schraubt dann (erst wenn die App einen dazu auffordert) die Sensoren auf die Ventile.
Neben einer Anleitung gibt es auch ausführliche Videos zur Montage.
mehr Informationen finden Sie hier >>
FOBO Bike is the worlds first all Bluetooth Smart advanced Tire Pressure Monitoring System (TPMS) for two wheelers and three wheelers.
FOBO Bike uses the latest Bluetooth 4.0 that works directly with your Android and iOS device. The main function of FOBO Bike is to monitor the air pressure and temperature of two wheelers & three wheelers like motorcycles.
more information cay you find here >>
Den können sie jetzt (siehe Verfügbarkeit) in allen verfügbaren Reifengrößen, günstig im de.myNETmoto.com Shop online kaufen.
Dazu finden sie auch noch reichlich und umfangreiche Erfahrungen ✓ Bewertungen ✓ Freigaben ✓ Laufleistung ✓ Test ✓ zu diesem Motorradreifen.

Welches der richtige Luftdruck, Reifendruck für den ist, hängt von deinem Motorrad bzw. dessen Gesamtgewicht ab, welches du in der Motorrad-Suche finden kannst. Dort findest du auch Angebote und Satz Preise.